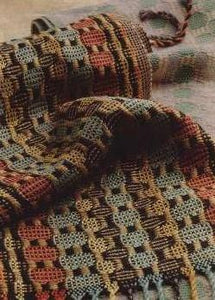 Bumpy Bamboo Scarves
This weaving kit includes all the yarns needed to weave these Bumpy Bamboo Scarves that were designed by Barbara Layton Rucker for Handwoven, Jan/Feb 2010, pages 52–54.
Create surprising color and texture contrast in M's & O's.

While the weave structure appears to be complex, it's quite easy to manipulate this M's & O's technique using any 4 or 6 shaft loom. You'll love the results!
You can choose to make scarf #1 in Desert Sunrise (scarf on left) or make both scarf #1 and scarf #2 in the Seaside (scarf in upper right).

Yarns: Bambu 7
Equipment needed:  4 or 6 shaft loom; 10" weaving width; 8-dent reed; 2 shuttles

Finished size:  8 1/2" x 65" each scarf

Instructions needed: Handwoven January/February 2010 from Long Thread Media.

You can also find this pattern in the Autumn Weaving Pattern Pack.
Note:  This kit includes all yarns needed to weave these scarves.  The pattern can be found in the Handwoven magazine noted above.  You will need to purchase this magazine if you don't already own a copy.
Photos by Joe Coca