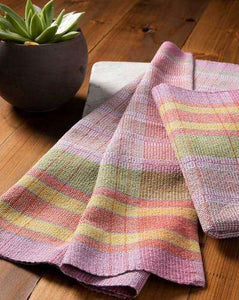 Color & Weave Tintes Naturales Towels
Color & Weave Tintes Naturales Towels
Your support helps support women in Guatemala. As you weave these gorgeous naturally dyed towels, you will not only be creating a set of four all-cotton towels, but you will give the women of San Rafael, Guatemala a chance of a better life and honoring the skills they have spent a lifetime learning.
Click here to learn more about the Natural Dye Project
 and the dozens of volunteers who helped these women increase their income through their desire to learn the art of natural dyeing, so that they could send their children to school for a better future.
You'll delight in the brilliant but earthy natural colors in shades of cochineal, indigo, osage orange, madder and overdye of osage orange with indigo.
Equipment needed:
 2 or 4-shaft loom, 25" weaving width, 10 dent reed, 2 shuttles and 5 bobbins
Finished size:
 four hemmed towels 20 1/2" x 23 1/2" each
Instructions needed:
Handwoven Jan/Feb 2021
 for all warping and weaving instructions.
Be sure to order this magazine if you don't already own a copy.
Designed by Linda Gettmann