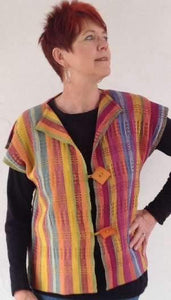 Friendship Tintes Naturales Vest ~ Rigid Heddle Weaving
As you weave the fabric for this colorful, easy-to-construct Friendship Vest, you will not only be creating a a gorgeous garment, but you will be giving the women of San Rafael, Guatemala a chance of a better life and honoring the skills they have spent a lifetime learning.

You'll delight in the brilliant but earthy natural colors in shades of cochineal, indigo, osage orange, madder and overdye of osage orange with indigo. The natural, undyed 8/2 stripes makes the colors pop!

Easy to warp and weave on any Rigid Heddle Loom using a beautiful 8/2 cotton hand-dyed in Guatemala. Woven with a combination of plain weave with weft floats and paired warp floats.

Hundreds of hours of volunteer time have gone into this kit from the first inception of the Natural Dye Project some five years ago, to the tireless volunteers working in the field, to the designing of the towel instructions, to our blogger, graphic designer, marketer and distributor--all volunteer hours so that the women of San Rafael can envision a better life for their daughters and sons. This is the first time in their lives these women will be able to earn a fair trade, living wage.

Click HERE to learn more about the Natural Dye Project and the dozens of volunteers who helped these women increase their income through their desire to learn the art of natural dyeing, so that they could send their children to school for a better future. See video below.

Read Rocio's blog to learn more about how the Natural Dye Project has improved the lives of the women who dye these yarns. Be sure to sign up to follow this blog.


Weave Structure:  plain weave with weft floats and spaced & paired warp floats
Yarns:  Friendship Towels with Tintes Naturales

Equipment needed:  rigid heddle loom; 15" weaving width; 12-dent reed; 4 stick shuttles or 1 boat shuttle with 4 bobbins; 1 pick-up stick. Buttons not included.
Finished size:  one Friendship Vest or four (20" x30") towels.
Instructions:  includes complete instructions for weaving one small to extra-large vest or four towels on a rigid heddle loom. 
Friendship Vest designed by Lois Weaver of ZoZo FiberArts
Supported by Mayan Hands
Yardage in kit:
Warp: 8/2 unmercerized hand dyed cotton (3,360 yd/lb; Mayan Hands Dye Project), Osage Orange/Indigo, Dark Indigo, Osage Orange, Light Cochineal, Light Indigo, Dark Madder, Dark Cochineal, 180 yd each; 8/2 unmercerized cotton (Mayan Hands), Natural, 1100 yd.

Weft: 8/2 hand dyed cotton, Osage Orange, 358 yd; Light Cochineal, Dark Cochineal, 332 yd each; Light Indigo, Dark Madder, 496 yd each.