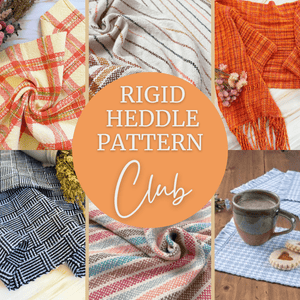 Rigid Heddle Weaving Pattern Club
Digital Downloads for our favorite, easy-to-follow weaving patterns!
Enjoy a variety of weaving patterns throughout the year!  
Learn new techniques!
This is a great way to learn new rigid heddle techniques with each new design!  Plus, you'll be able to add so many new patterns to your weaving library!

Each month you will receive an email from us that will include two patterns from our many rigid heddle weaving collections.  Some of these will include patterns from our Super Soft Cotton, Year of Towels, All Wrapped up Scarf, Baker's Dozen, and Weaving Through the Seasons collections.  
Weave towels, scarves, placemats, runners, and more!
What You Get
* Two patterns each month that are emailed in PDF format
* Step-by-step warping, weaving and finishing instructions
* Tips and hints for successful weaving
* Access to our Cotton Clouds Facebook Group for additional encouragement.
* One-on-one help if needed from designer Jodi Ybarra
* Surprise bonus patterns in addition to the two patterns each month to add even more weaving projects to your pattern collection.
What You Pay
*You will be billed only when patterns are emailed each month in a monthly plan of $8/month.
What You Need
* Rigid heddle loom plus other standard tools such as shuttles, 10-dent reed, and pick-up stick to weave the projects from these patterns.
* Love of rigid heddle weaving whether beginning or experienced.
© 2022 Cotton Clouds Inc. All rights reserved. No part of these documents may be reproduced without prior written permission of Cotton Clouds
Customer Reviews
07/02/2023
Kathleen G.

United States
Pattern club
I love the Pattern club. I received several patterns which I love. I haven't started any yet, but I'm getting ready to start the Amazing Colorways pattern. I'm looking forward to the next batch to come in.
12/04/2022
Suzie B.

United States
Club is great idea!
I am excited about the RH pattern club. It's fun to print each pattern and put them in a binder so I am building a library of beautiful patterns. When I'm ready for a project I can just check my stash of yarn and order any additional needed from Cotton Clouds. Jodi always gets the orders out quickly so I don't have long to wait to get started!
11/11/2022
Lurdes F.

Portugal
Rigid Heddle Weaving Pattern Club
Love the patterns received so far. One of them will be the next on my loom. Tough decision. I want to weave them all.