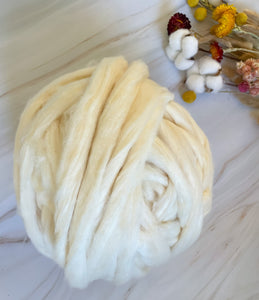 Easy-to-Spin® Pima Cotton Sliver
What makes this Pima sliver so special?

The combination of this extra-long staple Pima cotton and the process of making it into sliver creates a cotton spinning fiber that is pure luxury to spin!

Because Pima cotton's staple length is longer than any other fiber (besides Sea Island cotton), it's easy to spin. The longer fibers overlap each other and thus they twist together more easily. Plus this fiber is super-clean with not a speck of plant material so that you can keep your eye on the spinning and not have to take the time to stop and remove plant material. It's just so easy to spin!

We had this Pima Cotton specially processed into sliver that preserves the natural crimp of the cotton fibers, making it a much easier cotton to spin. It is available in carded only.

This longer stapled Pima cotton has been specially grown with far less chemicals than traditionally used on cotton, making it what we're calling "cleaner cotton". Grown in California through the

 

Sustainable Cotton Project

 

whose mission is to lessen the toll that the soil-to-shirt cotton production process takes on the earth's air, water, and soil, and the health of people in cotton growing areas.

This Easy-to-Spin Pima Sliver cotton is a joy to spin! Mix it with our other naturally colored cottons either by carding them together or plying a variety of colors together for very interesting effects.

Whether you've been spinning for many years or this is your first time spinning cotton, you're going to love the ease of spinning.

16 ounce package with spinning instructions included.