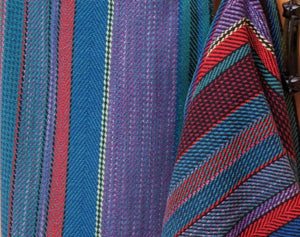 Bright Herringbone Twill Towels
This weaving kit includes all the yarns needed to weave these Bright Herringbone Twill Towels that were designed by Linda Gettmann for Handwoven, Sept/Oct 2014 pages 30–31.
Weave a set of brightly colored towels with all natural cottons.  Aurora Earth 8/2 cottons are loved for their absorbent qualities and for the ability to last through many years of use.
These towels are a modified version of Robin Lynde's Bath Towel from Design Collection #18.
Weave Structure:  herringbone twill
Yarns Aurora Earth 8/2 cotton.
Note:  We have made some close color alternatives from the 8/2 cottons in this pattern.

Equipment needed: 4-shaft loom, 23" weaving width; 10 dent reed; 1 shuttle; 2 bobbins

Instructions needed:  Handwoven Sept/Oct 2014 or Best if Handwoven: More Terrific Towels available from Long Thread Media.  
Finished size: 16.5" x 24" each towel hemmed

Note:  This kit includes all yarns needed to weave these towels.  The pattern can be found in the Handwoven magazine noted above.  You will need to purchase this magazine if you don't already own a copy.
Photos by Joe Coca