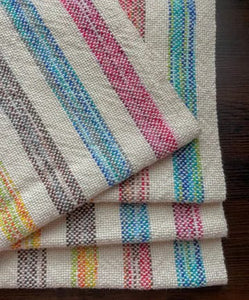 Caterpillar Cotton Fingertip Towels Pattern
Weave in all six of the fun, variegated colors of Caterpillar Cotton!  
These towels will be some of the softest, most colorful towels you have ever woven! 
Experience the benefits of 100% cotton, bringing texture and interest using the beautiful crimpy, spiral plied texture of Caterpillar Cotton along with our 5/3 Organic yarn.

Weave Structure: plain weave

Equipment needed: Rigid Heddle Loom; 14.2" weaving width; 10 dent reed; 2 shuttles

Yarns: Caterpillar Variegated Cotton; Organic 5/3 Cotton; Aurora Earth 8/2 cotton.

Finished Dimensions:  four towels 11" x 19" hemmed.