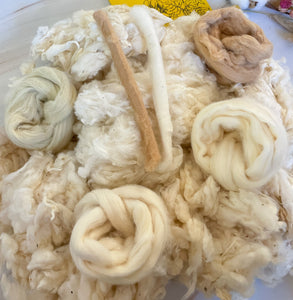 Cotton Clouds Sampler
A generous, 8 ounce sampling of our ginned and sliver cottons.

This is an excellent way for you to become acquainted with the various types of cottons both in staple length, ginned and sliver as well as the wonderful design possibilities with colored white, brown and green cottons.

Includes an assortment of our Easy-to-Spin cottons, Pima and Upland ginned cottons and a few hand made punis from India.

Great for spinning demonstrations and classes and just a way to get to know cotton.  Order the 10 Pack Cotton Clouds Sampler for group orders.