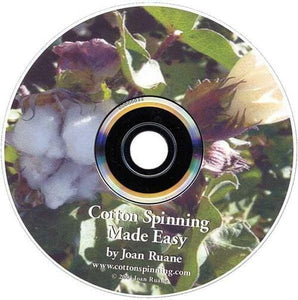 Cotton Spinning Made Easy DVD
Learn to card cotton and how to spin from a puni and cotton sliver onto a regular spinning wheel. Covers various techniques as well as many tips on spinning and plying. Ideal for the beginner or intermediate spinner.
Cotton Spinning Made Easy also takes time to explain how your wheel works and what adjustments you need to make to the wheel so it makes cotton spinning easy.
Joan also includes a segment on the different types of cotton, how each are prepared, and how to spin it into the soft, beautiful yarn you have dreamed about.
Full Video Duration: 1 hour 48 minutes