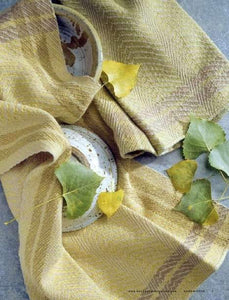 Cottonwood Leaf Towels
This kit includes all the yarns needed to weave these Cottonwood Leaf Towels that were designed by Sharon Alderman for Handwoven Jan/Feb 1998 page 31 and 73.

The graceful curve of a cottonwood leaf inspired this undulating twill pattern. Warp and weft colors reflect the leaves, bark and twigs of a cottonwood tree in early spring.

Weave structure: undulating twill with straight twill borders
Yarns: Aurora Earth 8/2 cottons.
Note:  some yarns have been substituted due to availability

Equipment needed: 8 shaft loom; width in reed 17 3/4; 12 dent reed

Finished size: four towels 15.5" x 24.5" with rolled hems

Sett: epi 24; ppi 18

Instructions needed: Handwoven's Top Ten Towels On Eight Shafts: A Project Collection or Handwoven January/February 1998 from Long Thread Media for complete instructions. Purchased separately.
Note:  This kit includes all yarns needed to weave these towels.  The pattern can be found in the Handwoven magazine noted above.  You will need to purchase this magazine if you don't already own a copy.
Photo by Joe Coca