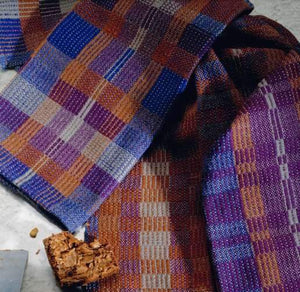 Country Rustic Towels
This weaving kit includes all the yarns needed to weave these Country Rustic Towels that were designed by Kathy Bright for Handwoven, Jan/Feb 1994, pages 99-100.

These towels are woven in the weave structure crackle, offering the unique capacity of different color combinations for a variety of towels.
Yarns: Aurora Earth 8/2 cottons

Weave Structure: Crackle block weave in which four pattern blocks can be woven on four shafts. A pattern weft floats on either the face or back of a plain-weave cloth and is tied to the cloth by one warp thread out of every group of four.

Equipment needed: 4 shaft loom; 22 1/8" weaving width

Sett: epi 16; ppi 26 (13 tabby, 13 pattern).

Finished size: three lovely kitchen towels with finished dimensions of 19" x 26 1/2" per towel

Instructions needed: Best of Handwoven: Yarn Series-A Dozen Projects in 8/2 Cotton (eBook) or Handwoven January/February 1994 from Long Thread Media.

Note:  This kit includes all yarns needed to weave these towels.  The pattern can be found in the Handwoven magazine noted above.  You will need to purchase this magazine if you don't already own a copy.
Photos by Joe Coca
Find these towels in our Dozen Projects in Cotton Kit of the Month Club