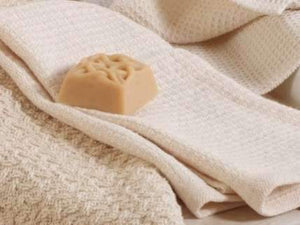 Crepe Weave Hand Towels
This weaving kit includes all the yarns needed to weave these Crepe Weave Hand Towels that were designed by Karen Tenney for Handwoven, Sept/Oct 2003, pages 52-55. 
These Crepe Weave Hand Towels go nicely with a bar of handmade soap or hung on the towel bar in the guest bathroom.

Yarns: Aurora Earth 8/2 100% unmercerized cotton

Equipment needed: 8-shaft loom; 18" weaving width; 10 dent reed

You can also weave these towels in plain weave or spot weave such as huck on a 4-shaft loom.

Finished size: six hemmed towels 15" X 25" each

Instructions needed: Handwoven September/October 2003 from Long Thread Media.
Note:  This kit includes all yarns needed to weave these towels.  The pattern can be found in the Handwoven magazine noted above.  You will need to purchase this magazine if you don't already own a copy.
Photos by Joe Coca