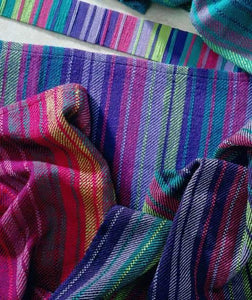 Designer Stripes Towels
This weaving kit includes all the yarns needed to weave these Designer Stripes Towels that were designed by Betsy Morton for Handwoven, Jan/Feb 1993.
Weave these cleverly planned towels with designer stripes. Although the color order of the stripes in these towels looks randomly placed, they actually follow a clever plan.

The weft of each towel is a different color, showing the effects of the warp stripes differently producing towels that are the same yet completely different.

Yarns: Aurora Earth 8/2 cotton.

Finished size: four towels. Finished dimension: 20.5" x 31" each

Equipment needed: 4 shaft loom; 24" width in reed; 10 dent reed; one shuttle

Weave structure 2/2 twill and basketweave

Instructions needed Best of Handwoven: Yarn Series-A Dozen Projects in 8/2 Cotton (eBook) or Handwoven January/February 1993 pages 62, 90.
Find these towels in our Dozen Projects in Cotton Kit of the Month Club
Note:  This kit includes all yarns needed to weave these towels.  The pattern can be found in the Handwoven magazine noted above.  You will need to purchase this magazine if you don't already own a copy.
Photos by Joe Coca