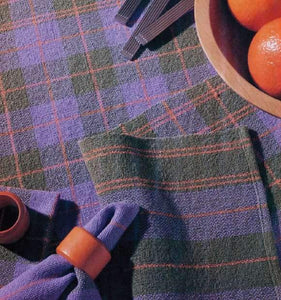 Doubleweave Placemats & Napkins
This weaving kit includes all the yarns needed to weave these Doubleweave Placemats & Napkins that were designed by Manuela Kaulitz for Handwoven, May/June 1996, pages 46–47, 90.

Two layers of cloth interlocked by warp ends that travel from layer to layer produce these sturdy, reversible placemats and napkins with stripes on one face and plaid on the other.

Yarns: Aurora Earth 8/2 cotton.

Fabric description: Stitched doublecloth for placemats, plain weave for napkins (woven in two independent layers).

Finished dimensions: four hemmed placemats 13 1/2" x 17 1/2" each and four hemmed napkins (two striped napkins and two plaid napkins) 13" x 13" each.

Equipment needed: 4 shaft loom; width in reed 15 7/8"; EPI 32 (16 per layer); PPI 32 (16 per layer); 8 dent reed or a 10 dent reed can be used, creating a denser fabric.

Instructions needed: Handwoven May/June 1996 or download Best of Handwoven: Yarn Series-A Dozen Projects in 8/2 Cotton (eBook) from Long Thread Media.

Find these towels in our Dozen Projects in Cotton Kit of the Month Club
Note:  This kit includes all yarns needed to weave these placemats and napkins.  The pattern can be found in the Handwoven magazine noted above.  You will need to purchase this magazine if you don't already own a copy.
Photos by Joe Coca