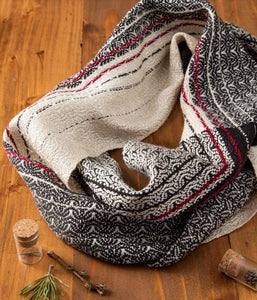 Fibonacci Cowl with a Twist
This weaving kit includes all the yarns needed to weave this Fibonacci Cowl with a Twist that were designed by Andrea Williams for Handwoven, Sept/Oct 2021, pages 48-50.
The detail in this project is not the threading, tie-up, or treadling; it's the counting.  This cowl was designed on the always-pleasing, never-fail Fibonacci sequence* of numbers.
You will love the drape and feel of Tencel.  Soft as silk and always pleasing to weave with.
Weave Structure: twill

Yarns: Tencel 8/2

Equipment needed: 8-shaft loom, 10" weaving width, 10 dent reed, 1 shuttle, 2 bobbins

Finished size:  22" x 82" with 11" fringe

Instructions needed: Handwoven Sept/Oct 2021 from Long Thread Media.

Note:  This kit includes all yarns needed to weave this cowl.  The pattern can be found in the Handwoven magazine noted above.  You will need to purchase this magazine if you don't already own a copy.
Photos by
 Matt Graves