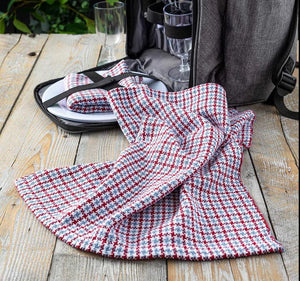 Fourth of July Picnic Towels
This weaving kit includes all the yarns needed to weave these Fourth of July Picnic Towels that were designed by Yvonne Ellsworth for Handwoven, May/June 2021, pages 44-45.
These are the perfect towels for your 4th of July celebrations!
Made with strong and sturdy, but also soft and absorbent 8/4 cotton.
Holidays are a wonderful way to gather with friends, enjoying food and festivities.  And these towels are the perfect addition to your summer fun!
Weave Structure: plain weave with color and weave
Yarns:   Cotton Rug Warp 

Equipment needed: rigid heddle loom; 21" weaving width; 12-dent reed; 3 shuttles
Finished size:  17" x 20" hemmed towels

Instructions needed:  Handwoven May/June 2021 from Long Thread Media.  

Note:  This kit includes all yarns needed to weave these towels.  The pattern can be found in the Handwoven magazine noted above.  You will need to purchase this magazine if you don't already own a copy.
Photos by
 Matt Graves