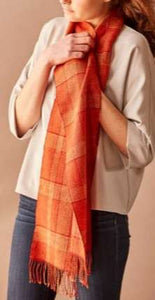 Geometric Shadow Weave Scarf
This weaving kit includes all the yarns needed to weave this Geometric Shadow Weave Scarf that was designed by Nancy Rimsha for Handwoven, Sept/Oct 2018, pages 50-52.
Weave a scarf in a geometric shadow weave structure with our luscious Tencel yarns.

Yarns:  Tencel 8/2

Equipment needed: 8-shaft loom; 9" weaving width; 10-dent reed; 3 shuttles.

Finished size: one scarf 7 1/4" x 72" with 3" fringe.

Instructions needed: Handwoven Sept/Oct 2018 from Long Thread Media.

Note:  This kit includes all yarns needed to weave this scarf.  The pattern can be found in the Handwoven magazine noted above.  You will need to purchase this magazine if you don't already own a copy.
Photos by George Boe