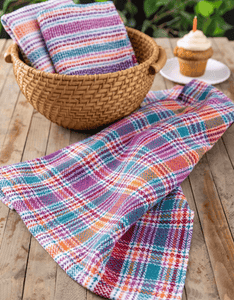 Gift Exchange Towels
This weaving kit includes all the yarns needed to weave these Gift Exchange Towels that were designed by Pat Bullen for Handwoven May/June 2021, pages 64-67.
Play with color and texture with these spring-time plaid towels.
We've included all six colors needed to weave these lovely towels that are sure to brighten your day.
Designer Pat Bullen came across a YouTube video showing how to wrap a gift using a tea towel.  She thought these gift exchange towels would be the perfect project to do just that!  Why use wrapping paper when you can wrap a gift in a set of useful and colorful towels!
Weave Structure: twill
Yarns: Aurora Earth 8/2 Cotton

Equipment needed: 4 shaft loom, 23" weaving width, 12 dent reed, 2 shuttles, 6 bobbins

Finished size:  three towels approximately 16" x 24" each

Instructions needed: Handwoven May/June 2021 from Long Thread Media.
Note:  This kit includes all yarns needed to weave these towels.  The pattern can be found in the Handwoven magazine noted above.  You will need to purchase this magazine if you don't already own a copy.
Photos by
 Matt Graves