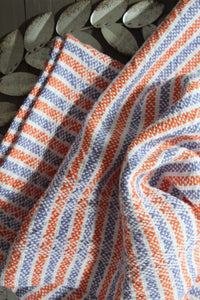 Hocus Pocus Towels
This weaving kit includes all the yarns needed to weave these towels that were designed by Jodi Ybarra for Weaving Through the Seasons Towel Collection.

When days grow short, and nights get cold you know it's time for spooks and treats.

Ghosts, goblins, witches and warlocks may be lurking, but you will be weaving festive Halloween inspired towels that are sure to be a treat.

Weave structure: plain weave with pick up accents

Yarns: Aurora Earth 8/2 cotton

Equipment needed: Rigid Heddle Loom; 22" weaving width; 10 dent reed; 2 stick shuttles

Finished size: 18 ½"x 28" each towel hemmed

Instructions: Complete, step-by-step instructions included with kit.

Find these towels in our Weaving Through the Seasons Kit of the Month Club
Photo by Jessica Ybarra