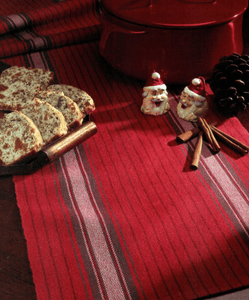 Holiday Table Runner with Warp Stripes
This weaving kit includes all the yarns needed to weave this Holiday Table Runner with Warp Stripes that were designed by Maj Britt Mobrand for Handwoven, Sept/Oct 1997, pages 67 and 74.

This plain weave runner with simple warp stripes is quick and very easy to weave.

Get ready for the holiday season by weaving this cheerful table runner.

Yarns: Aurora Earth 8/2 unmercerized cotton.

Equipment needed: rigid heddle or 4-shaft loom; 15" weaving width; 12-dent reed.

Finished size:  one runner 12" x 68" or two 12" x 34" runners
Originally published in Handwoven September/October 1997.

Instructions needed: Best of Handwoven: Top 10 Table Runners on Four Shafts from Long Thread Media.

Rigid Heddle version includes adjusted pattern directions in kit.
Note:  This kit includes all yarns needed to weave this runner.  If you are ordering the 4-shaft kit, the pattern can be found in the Handwoven magazine noted above.  You will need to purchase this magazine if you don't already own a copy.
Photos by
 Joe Coca