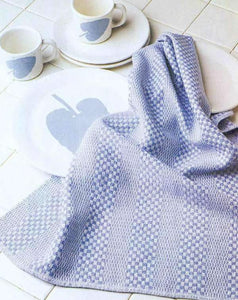 Keep It Simple Towels
This weaving kit includes all the yarns needed to weave these Keep It Simple Towels that were designed by Mary Ann Geers for Long Thread Media.
These lovely tea towels are very easy to weave. Great for your own kitchen or to have on hand for much appreciated gifts.

The threading is straight-forward, and the weaving is quick with one shuttle.

To keep your interest while weaving you will have white for your warp and two different weft colors. This will give you a set of four towels that are similar but still a little different.

The draft, called "Huck-a-Back Blocks", is from Marguerite Davidon's A Handweaver's Pattern Book" page 82.
Weave structure:  Huck Variation

Yarns: 8/2 Aurora Earth cotton yarns.

Finished size: four generous-sized towels 20" x 30" each

Equipment needed: 4-shaft loom; 24.5" weaving width; 10 dent reed

Instructions needed:  Best of Handwoven: Top 10 Towels on Four Shaft available from Long Thread Media.
Interweave Press has offered a tip for weaving these "Keep It Simple" Towels. Click here to see a tip from Madelyn van der Hoogt
Note:  This kit includes all yarns needed to weave these towels.  The pattern can be found in the Handwoven magazine noted above.  You will need to purchase this magazine if you don't already own a copy.