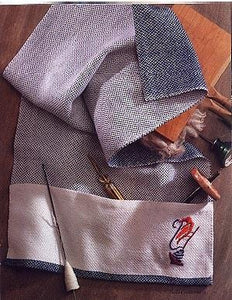 Lap Towels for Spinners & Weavers
This weaving kit includes all the yarns needed to weave these lap towels that were designed by Linda Ligon for Handwoven.
Keep lint & dirt off your lap with this reversible (dark & light sides) lap towel. Make it easier when spinning fibers or sitting at your weaving bench. Little pockets hold everything you need on right at your fingertips!

Weave structure: 1/3 broken twill
Yarns: Perle 5/2 in white and royal blue 

Equipment: 4-shaft loom; 17" weaving width; 10-dent reed; 1 shuttle, 2 bobbins

Finished size: three lap towels 13" x 27"

Instructions needed: You will need to download Handwoven's Design Collection #18: A Treasury of Towels from Long Thread Media.

Note:  This kit includes all yarns needed to weave these towels.  The pattern can be found in the Handwoven magazine noted above.  You will need to purchase this magazine if you don't already own a copy.
Photos by Joe Coca