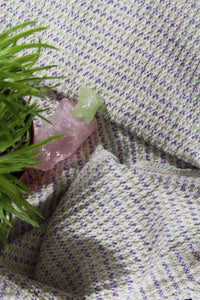 Lavender Fields Towels
This weaving kit includes all the yarns needed to weave these Lavender Fields Towels that were designed by Jodi Ybarra for Weaving Through the Seasons Towel Collection.
Decorate your kitchen with colors of a summer bouquet.  Lavender is known for the ability to relieve stress and improve our mood just like weaving tends to do.

These towels are the perfect way to celebrate our love of summer.

Weave structure: Pick-up technique
Yarns: Aurora Earth 8/2 cottons in Natural, Nile Green and Periwinkle.

Equipment needed: Rigid Heddle Loom; 23.4" weaving width; 10 dent reed; 2 stick shuttles; 1 pick up stick

Finished size: 18" x 27" each towel hemmed

Instructions: Complete, step-by-step instructions included with kit.

Find these towels in our Weaving Through the Seasons Kit of the Month Club
Photos by Jessica Ybarra