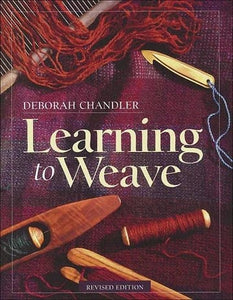 Learning to Weave
Learning to Weave teaches you how to warp your loom three different ways with step-by-step warping instructions.

The book also teaches you how to read a weaving draft, and how to design your own weaving projects, and how to find and fix common weaving mistakes.

Absolute beginners will learn the basics of weaving including the different parts of the loom, common weaving equipment, and all the tips, tricks and knowledge you need to get started weaving the right way as Deborah Chandler walks you through your first project.

Filled with helpful illustrations, photographs, and charts, Learning to Weave is a straight-forward guide that will teach you how to weave on your own, or with a teacher.

The book goes beyond the basics as you'll be introduced to different weave structures including twill, overshot, summer and winter, and lace. We don't know of a better weaving text.

Countless weavers have used this unparalleled study guide to learn to weave from scratch or to become better weavers.
Paperback - 232 pages
By Deborah Chandler
In 1984, under the name Debbie Redding, Deborah wrote Learning to Weave, a beginning weaving text that has been in print for more than 30 years now. In 1989 she went to Honduras with the Peace Corps, then spent four years in Houston being inducted into Fair Trade. Since 1999 she has been a resident of Guatemala, a country with one of the richest textile traditions in the world. She was the Guatemalan Director of Mayan Hands (.org) for nine years, a fair-trade organization that has worked with hundreds of Mayan women weavers for more than 25 years. During that time, she and Ray Senuk (of the Ixchel Museum of Indigenous Textiles) co-authored Guatemalan Woven Wealth - Preserving a Rich Textile Tradition, a volunteer effort by a team of "book people" in support of Friendship Bridge, a micro-credit ngo that works in Guatemala. Retiring from Mayan Hands opened up the time to work with Teresa Cordón researching and writing Traditional Weavers of Guatemala - Their Stories, Their Lives, a wonderful and rewarding project.
Teresa Cordón, born in Zacapa in the eastern part of Guatemala, has worked with Mayan artisans for much of her adult life, providing them with both work and educational opportunities. Since 1990 her "day job" has been working with K'iche' men who create traditional palm leaf hats that are eventually sold through SunBody Hats in Houston. Teresa has always been an exceptional writer, but this is her first foray into writing a book. It's about time.