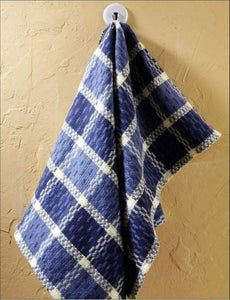 Linked Birdseye Towels
Weave either two or four generous sized kitchen towels with our versatile Aurora Earth 8/2 cotton.

Weave structure: The threading for this towel will be very familiar to anyone who has looked at old drafts for weaving. When it has a name, it is called "birdseye."

The usual treadling for birdseye is a point twill with the same color in warp and weft.

In this unusual variation, more colors and a more complex treadling order "link" the birdseyes together into chain-like motifs that look a little like contemporary computer data stream or code.
Yarns: Aurora Earth 8/2 unmercerized cotton 
Equipment needed:  4-shaft loom, 23" weaving width; 10-dent reed; 2 shuttles, 5 bobbins.
Finished size:  20" x 30" each towel
Instructions needed:  Winning-Towels-Handwovens-21st-Century-Towel-Contest available from Long Thread Media for warping and weaving instructions.

Designed by Marjie Thompson