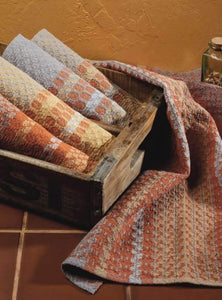 M & O Dish Towels
This weaving kit includes all the yarns needed to weave these M & O Dish Towels that were designed by Kathleen Farling for Long Thread Media.
M's & O's is a simple weave forming two blocks of pattern with four shafts.

Yarns: 8/2 Aurora Earth cotton.

Equipment needed: 4-shaft loom; 20 epi; 24 1/2" weaving width.

Finished size: six hemmed towels 20" by 29" each.

Cotton Clouds has supplied the yarn while Long Thread Media supplies the pattern.

Instructions needed: M & O Dish Towels as a single pattern or Best of Handwoven: Top Ten Dish Towels on Four Shaft eBook available from Long Thread Media.

You can also find this pattern in the Autumn Weaving Pattern Pack available from Long Thread Media.
Note:  This kit includes all yarns needed to weave this towel.  The pattern can be found in the Handwoven magazine noted above.  You will need to purchase this magazine if you don't already own a copy.