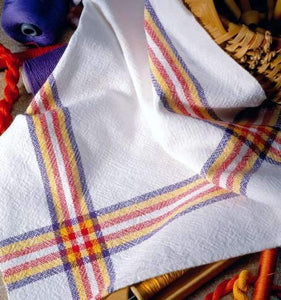 Napkins with Patterned Tracking
Weave these napkins that look complex to but are actually very easy to weave.
Tracking is a change in a fabric that occurs during washing, causing random diagonal ridges to rise on the surface of the cloth producing the effect of a very complex twill stucture, when in fact, the fabric is woven in plain weave.
We consider tracking a magical gift from the weaving gods, so give these napkins a try!
These generous sized napkins can be used as bread basket liners or lap tablecloths for casual dining. A great way to go paper-free in your home!
Yarns:
Aurora Earth 8/2
 100% unmercerized cotton.
Finished size:
 four napkins 21" x 21" each
Equipment needed:
 4 shaft loom; 12 dent reed; 25" weaving width; 4 shuttles
Weave structure:
plain weave
Instructions needed:
Best of Handwoven: Yarn Series-A Dozen Projects in 8/2 Cotton (eBook)
 from Long Thread Media for complete instructions.
Designed by: Margaret Gaynes