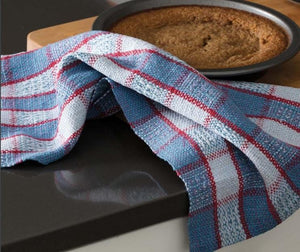 No Assumptions Towels
Designer Susan Horton has designed these fun to weave towels for your rigid heddle weaving.
Everyone loves towels woven in plain weave but these towels go one step further with a pick-up pattern that adds beautiful texture squares.
Weave Structure: Plain weave with pick-up technique

Yarns: Cotton Tail  and Aurora Earth 100% unmercerized cottons

Equipment needed: Rigid Heddle Loom (2-shaft); 19" weaving width; 12 dent reed; 4 shuttles; 1 pick-up stick; 

Finished Dimensions: 2 towels 16" x 23½" each

Instructions needed: Top Ten Rigid Heddle Table & Kitchen Linens Download.  Sold separately.
Designed by Susan Horton
Note:  Some of the yarns in the original pattern are no longer available.  You will love our Cotton Tail yarns in place of Block Island Blend that are used in this project.   The colors of Cotton Tail that are used include Natural, Teal, Baby Blue and Vanilla.