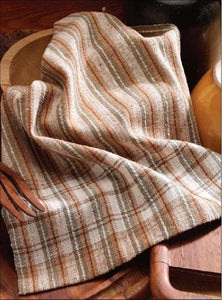 Naturally Organic Cotton Towels
What a perfect way to enjoy color-grown organic cotton! We make it easy!
The color-grown colors will darken with washing, giving you a set of beautiful towels to light up your kitchen or to give as a special gift. Either way, they're sure to be a huge hit!

You will receive a variety of brown, green and natural yarn colors you'll need to warp and weave lovely striped kitchen towels.  We've also included some Monte Cristo textured yarn that you can add to your warp to add even more interest to your towels.
Weave structure:  plain weave

Yarns: 10/2 Packucho Organic Lite and our 10/2 Packucho Organic Dark 100% organic, naturally colored yarns.
Note:  The naturally grown cottons vary in color depth each year.  The colors may be lighter or darker than what is shown in the picture.  Naturally grown cottons also deepen in color after washing.  Read more about color transformation in cottons in this article from Spin Off.
Equipment needed: 4 shaft loom; 22" weaving width; 2-3 shuttles
Finished size: makes two towels 18" x 30"

Complete warping, weaving and finishing instructions included.