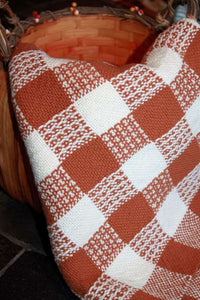 Pumpkin Pie Towels
This weaving kit includes all the yarns needed to weave these towels that were designed by Jodi Ybarra for Weaving Through the Seasons Towel Collection.

We are all obsessed with pumpkin everything!

The flavor of pumpkin has come to signify the advent of fall, right along with changing leaves and crisp weather.  Pumpkin just feels warm and cozy.
Now you can weave these Pumpkin Pie Towels to signify your love of this yummy Thanksgiving treat!

Weave structure: plain weave with pick-up technique

Equipment needed: Rigid Heddle Loom; 22" weaving width; 10 dent reed; 3 stick shuttles; 1 pick-up stick
Note:  We now have a 15" version for this kit so that you can weave these towels on your Cricket Loom or any 15" loom.  This kit makes four smaller towels.

Yarns: 8/2 Aurora Earth 100% unmercerized cotton.

Finished Dimensions: 18" x 26" each towel hemmed

Instructions: Complete step-by-step instructions included with kit

Find these towels in our Weaving Through the Seasons Kit of the Month Club
Photo by Jessica Ybarra