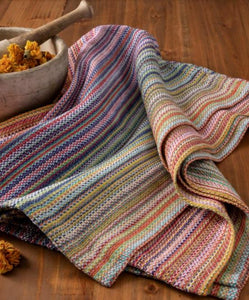 Random Exchange Towels
These colorful towels are based on a twill pattern from A Weaver's Book of 8-Shaft Patterns by Carol Strickler and a color horoscope weaving workshop with Bonnie Tarses.
The colors are organized in a "rainbow sequence" shifting from warm to cool hues, then back to warm again.
Note: similar color substitutions have been made in the 8/2 cottons.
Weave Structure: twill

Yarns: 8/2 Aurora Earth Cotton

Equipment needed: 8-shaft loom, 24" weaving width, 12 dent reed, 1 shuttle, 1 bobbin

Finished size: ) four towels, 18¾" × 24½" each plus 11" sample swatch

Instructions needed: Handwoven Sept/Oct 2021 for all warping and weaving instructions.

Be sure to order this magazine if you don't already own a copy.

Designed by Kathie Roig