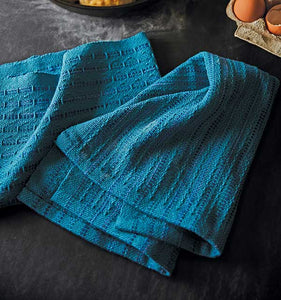 Sweet Blue Towels
Just like bright blue cotton candy  from the county fair, weaving these two towels is an absolute treat. They're also the perfect projects for learning pick-up.
Towel 1 uses simple pick-up to create small warp floats, while Towel 2 features a longer, but equally simple, pickup sequence to create both warp and weft floats.
(These towels are a blue version of the Savory Towels for the Rigid-Heddle Loom featured in Handwoven November/ December 2017.)
Weave Structure: Plain weave with pick-up technique

Yarns: Cotton Tail  and Caterpillar Cotton 100% unmercerized cottons

Equipment needed: Rigid Heddle Loom; 18" weaving width; 12 dent reed; 1 shuttle; 2 pick-up sticks

Finished Dimensions: 2 towels 15½" x 22½" each

Instructions needed: Top Ten Rigid Heddle Table & Kitchen Linens Download.  Sold separately.
Designed by Jenny Sennott
Note:  Some of the yarns in the original pattern are no longer available.  You will love our Cotton Tail yarns in place of the 4/2 cottons that are used in this project.