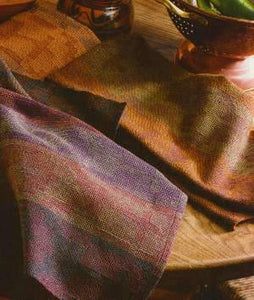 Ripsmatta Kitchen Towels
Ripsmatta is a Scandinavian term meaning rep mat. The more you design and weave this warp-faced structure, the more excited you will get and the more possible uses will occur to you.

Warp rep is a block weave in which two shafts are required for each block, one shaft for the pattern color, one shaft for the background color. A thick pick is inserted with one of the shafts raised, followed by a thin pick with the other shaft raised. The warp color raised for the thick pick dominates on the face of the cloth, the other color on the back.

Yarns: We have wound off all the colors of the thicker 8/2 Aurora Earth cotton yarns that you will need to weave four generous size kitchen towels (16 ¾" x 28 ¼").

We have also supplied Ecocot Organic in natural that you can use in place of the sewing thread that is called for in this pattern, or you can purchase the thinner thread separately (sewing thread—Mettler metrosene or Guttermann) as indicated in the directions.

Instructions: You will need Handwoven March/April 2002 for complete instructions. This is available from Long Thread Media if you don't already own this copy.

You can also find instructions for these towels in Best of Handwoven: Yarn Series-A Dozen Projects in 8/2 Cotton (eBook) from Long Thread Media for complete warping and weaving instructions.

Equipment needed: 4 shaft loom; 10 dent reed; 20" weaving width

Designed by Joanne Tallarovic,a leading ripsmatta expert.
Find these towels in our Dozen Projects in Cotton Kit of the Month Club