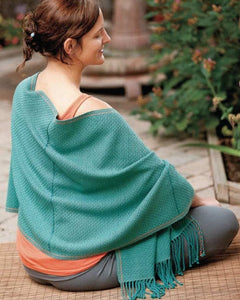 Serenity Shawl
This weaving kit includes all the yarns needed to weave this Serenity Shawl that was designed by Kate Lange-McKibben for Handwoven Jan/Feb 2013.
When alternating between exercise and repose one wants the lightness of cotton with just a hint of warmth from wool. The 80% cotton/20% wool blend of the Cotton Fine in these shawls offers the best of both.
Perfect for seated meditation or as a light-weight blanket during shavasana at the end of your yoga practice.
Weave Structure: huck lace

Yarns: Cotton Fine (80% cotton/20% merino wool) Color substitutions in this project have been made due to availability. The colors include Jubilant Jade, and Marbled Mint for the main colors, and Terra Cotta Canyon for the accent stripe. 

Equipment needed: 4 or 8-shaft loom, 25" weaving width, 12 dent reed, 1 shuttle.

Finished size: one shawl 21.5" x 72.5" plus 4" fringe on each end.
Additional Materials not included: size 8 Delica beads (optional).

Instructions needed: Handwoven Jan/Feb 2013 pages46, 53-54. Available from Long Thread Media. 
Note:  This kit includes all yarns needed to weave this shawl.  The pattern can be found in the Handwoven magazine noted above.  You will need to purchase this magazine if you don't already own a copy.
Photos by Joe Coca