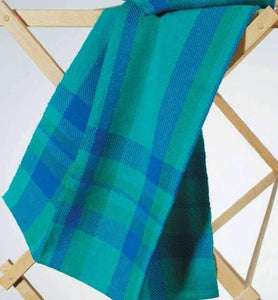 Simple Twill Towels
The functional textiles we surround ourselves with should be beautiful!

For these towels, three shades of blues and greens are used in rotation. The three-color rotation gives the design an appealing asymmetrical look.
Weave structure:  2/2 twill
Yarns: Aurora Earth 8/2 is the ideal fiber for towels.

Equipment needed: 4-shaft loom, 19" weaving width; 12-dent reed; 1 shuttle, 3 bobbins

Instructions: You can find full color instructions with Weaving Today's Free Weaving Projects and Patterns for the 4-shaft Loom.
Finished size: four towels 16 1⁄8" × 24 3⁄4" hemmed

Designed by Margaret Gaynes