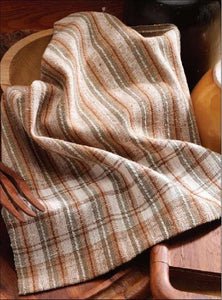 Spin & Weave Towel Kit
What a perfect way to show-off your handspun cotton! Now you can spin and weave your own dishtowels!

This new Naturally Colored Kitchen Towel Kit makes it easy!

We've included a total of 17 ounces of naturally colored sliver cottons to spin and weave three generous-size kitchen towels (18" x 30") on any 2 or 4-shaft loom!

The naturally colored cotton colors will darken with washing, giving you a set of beautiful towels to light up your kitchen or to give as a special gift. Either way, they're sure to be a huge hit!
You can also download, Spinning Cotton + Colored Cotton Free eBook for more great tips about spinning cotton.