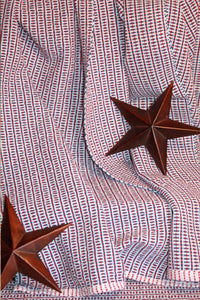 Star Spangled Towels
This weaving kit includes all the yarns needed to weave these towels that were designed by Jodi Ybarra for Weaving Through the Seasons Towel Collection.
Although these towels aren't the traditional stars and stripes of our glorious United States flag, they will surely bring patriotism into our home.

Celebrate our independence by weaving fun, festive fireworks on your rigid heddle loom.

Weave structure: plain weave with warp and weft color changes
Yarns: Aurora Earth 8/2 100% unmercerized cotton.

Equipment needed: Rigid Heddle Loom; 23" weaving width; 10 dent reed; 3 stick shuttles

Finished Dimensions: 19" x 27" each towel hemmed

Instructions: Complete step-by-step instructions included with kit.

Find these towels in our Weaving Through the Seasons Kit of the Month Club