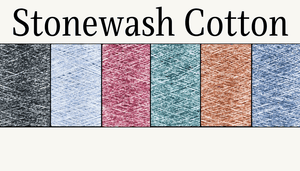 Stonewash Cotton Bundle
This Stonewash Cotton Bundle includes six different colors (350 yds each). That's 2100 total yards to design so many projects!  
Stonewash Cotton is 100% mercerized cotton dyed in gorgeous speckly tones.
Use this cotton in any draft calling for 5/2 cotton at 2100 yd/lb.  This is also a great yarn that mixes well with our Aurora Earth 8/2 yarns.
Add depth and dimension in your dish towels, table runners, blankets, and more!

Fiber content:  100% Mercerized Cotton
Care:  machine wash gentle, tumble dry low, lay flat to dry for items with fringe
Sett:  15-20 epi
Made in Brazil