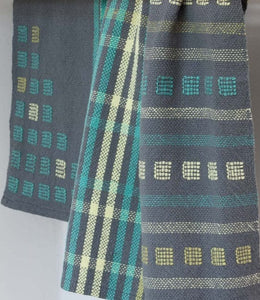 Stripes and Blocks Towels
This weaving kit includes all the yarns needed to weave these Stripes and Blocks Towels that were designed by Susan Horton and featured on the cover of Handwoven September/October 2014.
Weave stripes and blocks using plain weave and an inlay technique on your rigid heddle loom. Weft and warp floats will inspire you to create a set of towels that look difficult but are really rather easy.

We highly recommend "The Weaver's Idea Book" for tips on pick up techniques and more! This is a great reference tool for rigid heddle weaving.

Yarns: Aurora Earth 8/2 100% unmercerized cotton.

Equipment needed: rigid heddle loom; 20" weaving width; 12-dent reed; 2 stick shuttles; two pick-up sticks.

Finished size: two towels 17" x 22" each

Instructions needed: Handwoven September/October 2014 available from Long Thread Media.
This kit includes all yarns needed to weave these towels.  The pattern can be found in the Handwoven magazine noted above.  You will need to purchase this magazine if you don't already own a copy.

Photos by Joe Coca