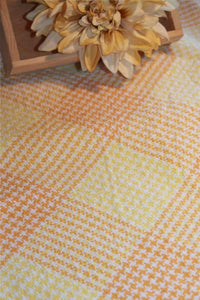 Summer Sunshine Towels
This weaving kit includes all the yarns needed to weave these towels that were designed by Jodi Ybarra for Weaving Through the Seasons Towel Collection.
Be bright, sunny and positive, spreading seeds of happiness. Rise, shine and hold your head high with each new day.

Life is really something when you open your eyes and heart to appreciate every little thing around you. We get so busy in our daily work-life and schedules that we tend to overlook the little things.

Recognize those little things in nature that the sunshine brings to our lives.

Weave structure: houndstooth

Equipment needed: Rigid Heddle Loom; 24" weaving width; 10 dent reed; 4 stick shuttles

Yarns: Aurora Earth 8/2 100% unmercerized cotton.

Finished Dimensions: 20" x 28" each towel hemmed

Instructions: Complete, step-by-step instructions included with kit.

Find these towels in our Weaving Through the Seasons Kit of the Month Club
Photo by Jessica Ybarra