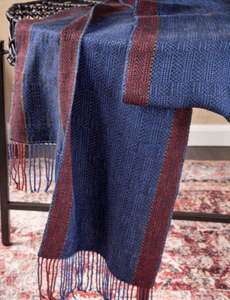 Treadling Twist Twills Scarf
This weaving kit includes all the yarns needed to weave this Treadling Twist Twills Scarf that was designed by Kate Lange-McKibben for Handwoven, Nov/Dec 2022, pages 45–47.
Explore treadling 15, a twill combination that the author calls "Wefting 15, Irregular Hopsack and Zigzag Twill." Threadings A (straight twill), B (turned twill), and E (rosepath) are used in this scarf.
Weave structure: Twill
Yarns: Bambu 12, in colors Emperor Blue, Wine, Green Tea and Onyx.

Equipment needed: 8-shaft loom with 10" weaving width; 15-dent reed; 1 shuttle

Finished size: one scarf 8 1/2" x 76" plus 3 1/2" fringe
Instructions needed: Handwoven November/December 2022 available from Long Thread Media.
This kit includes all yarns needed to weave this scarf.  The pattern can be found in the Handwoven magazine noted above.  You will need to purchase this magazine if you don't already own a copy.
Photos by Matt Graves