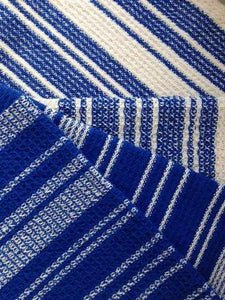 Waffle Weave Kitchen Towels 4-shaft Pattern
Pattern Download
Everyone loves the versatility of waffle weave towels! They're so absorbent, especially when woven with our 8/2 Aurora Earth 100% unmercerized cotton yarns!

Robin Lynde has created two unique warp stripe designs, woven with 8/2 Aurora Earth for both warp and weft.
Fabric description:  waffle weave threading with tie-up options
Yarns: Aurora Earth 8/2 Cotton
Equipment needed:  4-shaft table or floor loom; 10 dent reed; 18" weaving width; 1 shuttle
Finished size:  18" x 30" each towel after hemming
This Waffle Weave Kitchen Towel project is also available as a kit with all the yarns needed to weave either four or eight towels.