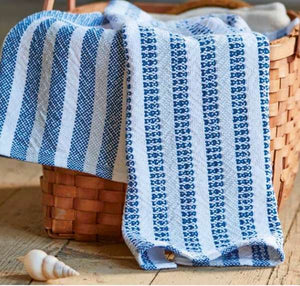 Winter Wave Towels
The constant motion of waves on the beach is both hypnotic and relaxing, just as weaving these ocean-inspired towels will be.
Weave Structure:
These towels can either be woven in plain weave or you can choose to use the pick-up technique for a textured version. We suggest trying both weave structures for a set of towels that are similar yet not quite the same.
Fabric Description: 
 Plain weave or pick-up technique
Equipment:
Rigid Heddle Loom (2-shaft); 19.6" width in 10-dent reed; 2 stick shuttles; 1 pick-up stick
Yarns:
Aurora Earth 8/2
 100% unmercerized cotton.
Sett:
 20 epi (2 ends/dent in 10 dent reed)
Finished Dimensions:
 16" x 26" for plain weave towels; 15.25 x 25" for textured towels.
Intructions: 
You will need the magazine Easy Weaving with 
Little Looms 2019
 from Long Thread Media.
This towel is also available in our new 
Weaving Through The Seasons
Kit-of-the-Month Club towel collection.
Designed by Jodi Ybarra