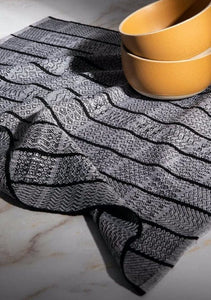 Woven Mosaics
This weaving kit includes all the yarns needed to weave these Woven Mosaic Gamps that were designed by Jan Josifek for Handwoven, March/April 2023, pages 44–47.
While many motifs have deeper cultural meanings that might not be understood by those outside of that culture, the beauty itself needs no explanation.  This symbolic imagery, where individual pieces compose a unified whole, lends itself perfectly to patterned weaving.
Weave Structure: twill

Yarns: 10/2 & 20/2 Perle Cottons
Equipment needed: 6-shaft Loom; 26" weaving width; 12 dent reed; 2 shuttles

Finished Dimensions: two gamps 23" x 24" each
Instructions needed:  Handwoven March/April 2023.  Sold separately.
Note:  This kit includes all yarns needed to weave these Mosaic Gamps.  The pattern can be found in the Handwoven magazine noted above.  You will need to purchase this magazine if you don't already own a copy.
Photos by Matt Graves