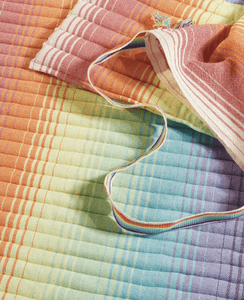 Yoga Mat, Pillow and Matching Carrier
This project is rewarding in more ways than one!  
You will have the pleasure of weaving with cotton and enjoying a peaceful yoga session on your mat and pillow.  Then you can pack it all up in your matching carrier.
Our Aurora Earth 8/2 Cotton that is used for the warp has a soft quality in both look and feel.  The fabric is slightly warp-emphasis, so the soothing colors show more than the natural weft.
Weave Structure: Doubleweave
Yarns: 8/2 Aurora Earth Cotton; Organic 10/2 Cotton
Supplies needed but not included in this kit: Quilt batting and sewing thread

Finished size:  one yoga mat 24 1/2" x 70"; one pillow 10" x 24"; one carrier 13" x 24"; one inkle strap 1 1/2" x 32"

Equipment needed: 4 shaft loom, 29" weaving width, 10 dent reed, 1 shuttle
Instructions needed: Handwoven March/April 2010
Be sure to order this magazine if you don't already own a copy.
This pattern is also available as a single pattern download.

Designed by Suzie Liles