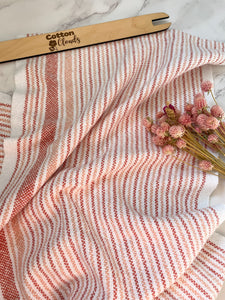 Apricot Spritzer Towels
This weaving kit includes all the yarns needed to weave these Apricot Spritzer Towels designed by Jodi Ybarra for our Baker's Dozen Towel Collection.
These towels are as refreshing as the tall, chilled drink they are named after.  You will enjoy weaving with a blend of bamboo and cotton yarns.  The Caterpillar Cotton that is used for weft adds just the right amount of texture that creates soft, absorbent towels and makes getting nice selvages a breeze.
Weave Structure: plain weave
Rigid Heddle Loom (2-shaft); 20.2" weaving width; 10-dent reed; 2 shuttle
Warp Yarns: 8/4 Cotton White, Bamboo Pop Apricot Slush, Bamboo Pop Winter Squash.
Weft Yarns:  Caterpillar Cotton Natural; Aurora Earth 8/2 White for hems.
Finished Dimensions:  two towels approximately 17½" x 24"
Instructions: Included in kit
You can find these towels in our Baker's Dozen Kit-of-the-Month Club.
Join our Cotton Clouds Rigid Heddle Weaving Facebook Group to share your love of weaving with fellow fiber enthusiasts!