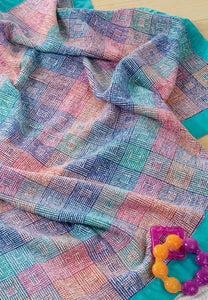 Chenille Shadow Weave Block Baby Blankets
This weaving kit includes all the yarns needed to weave these Chenille Shadow Weave Block Baby Blankets that were designed by Terry Newhouse Flynn for Handwoven, Jan/Feb 2012, pages 58-59.
Think baby and think blocks!  We all remember those colorful wooden baby blocks.

Now you can weave these memories and images into a luscious, machine wash and dryable chenille baby blanket using clever shadow weave techniques!

Equipment: 4-shaft loom; 36" weaving width; 12-dent reed; 2 shuttles

Yarns: Gypsy Chenille Solid and our new Monte Cristo 100% cotton.
Finished size: two 30" x 40" hemmed baby blankets

Instructions: Handwoven Jan/Feb 2012 Digital Edition from Long Thread Media.

You can also download the single Chenille Shadow Weave Block Baby Blanket Pattern.

Some of the pastel colors Terry Newhouse Flynn chose for this design are no longer available so we have chosen brighter and more vibrant colors that any baby will adore, keeping them warm and snuggly!  The new colors include Splash, Iris, Crocus, Spirited Rose and Iriquoise.
Note:  This kit includes all yarns needed to weave these baby blankets.  The pattern can be found in the Handwoven magazine noted above.  You will need to purchase this magazine if you don't already own a copy.
Photos by Joe Coca