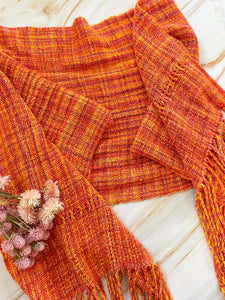 Positive Intentions Shawl Pattern
Pattern Download
Let the yarn do all the work by itself!
In this shawl we've used hand-dyed Zig Zag rayon yarn for both the warp and the weft and the results are as beautiful as the weaving is easy.
Zig Zag is a 100% rayon bouclé that is sleek, supple, and downright stunning!
This yarn has such a beautiful drape. and is so soft to the touch.  This shawl is woven in just plain weave, so you could weave it on a rigid heddle loom or a loom with harnesses.
***Note:  This yarn is not colorfast, so you will want to wash this item by itself to prevent the colors from bleeding onto other fabrics.
This Positive Intentions Shawl is available as a kit which is packaged in a lovely organza bag, perfect for gifting your finished shawl.
Weave structure: plain weave with leno lace
Equipment needed: Rigid Heddle Loom (2-shaft); 18" weaving width; 10 dent reed; 1 shuttle
Yarns: Zig Zag Rayon Yarns
Finished size:  one shawl with finished measurement of approximately 15" x 72" plus fringe.  It can be hand washed and dried flat. 
Designed by Jodi Ybarra

Photos by Jessica Ybarra