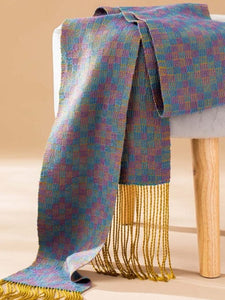 Shimmering Crackle Scarf
This weaving kit includes all the Tencel yarns needed to weave this Shimmering Crackle Scarf that was designed by Bobbie Irwin for Handwoven Sept/Oct 2023.
This iridescent fabric glows with four shining colors in Tencel, while displaying a repeating diamond pattern of color blocks.  The colors shimmer as you view the scarf from different angles.
This scarf is not difficult to warp using only one color and four shafts but the weaving goes a little slow using three shuttles.
We also offer the option of making two scarves on one warp.  Make one for yourself and one for a friend!
Weave Structure: polychrome crackle 

Yarns: Tencel 8/2 in Gold, Aquamarine, Blueberry, and Red Purple.
Equipment needed: 4-shaft Loom; 8" weaving width; 12 dent reed; 3 shuttles; 

Finished Dimensions: 6" x 71" plus 7" fringe
Instructions needed:  Handwoven Sept/Oct 2023 pages 33-35, available from Long Thread Media.
Note:  This kit includes all yarns needed to weave this scarf.  The pattern can be found in the Handwoven magazine noted above.  You will need to purchase this magazine if you don't already own a copy.
Photos by Matt Graves