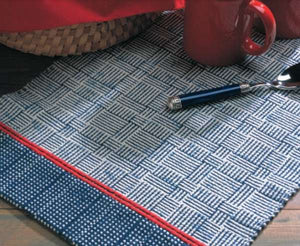 Two on Two Log Cabin Runners
Designing within limited parameters and fully utilizing the resources they allow can turn something ho-hum into—wow! This runner is a case in point.

For the wow! in the runner, blue borders and red accent threads in a soumak stitch are added at each end.

What's even better is that this runner can be woven on any 2 or 4 shaft loom.
Weave structure:  plain weave log cabin

Yarns: 8/4 Cotton Rug Warp and Softspun Perle Cotton 3/2

Equipment needed: 2 shaft rigid heddle loom or on any shaft loom; 16" weaving width; 10 dent reed; 2 shuttles

Finished size: two runners 13 1⁄2" × 34" each

Instructions needed: You can find this pattern in 4 Free Table Runners or Handwoven May/June 2000 available from Long Thread Media for warping and weaving instructions.

Designed by Jane Patrick